G4S Secure Solutions (Uganda) Limited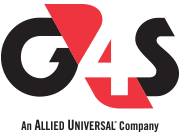 G4S Secure Solutions (Uganda) Limited was officially incorporated on 29th September 1998 and also ISO certified.
G4S proudly represents one of the largest employers with over 4000 staff members throughout the country, supported by a sound commercial fleet and a fully established office branch network throughout Uganda.
Our extensive expertise, professionalism and experience in the security industry have ensured that we are recognized as the most renowned threat assessment and risk mitigation firm, especially in sectors where security and safety risks are considered a strategic threat.
Our security services have evolved from simply Manned Guarding Services to provide a comprehensive range of security services including: Cash Management Solutions, Integrated Security Solutions, Alarm monitoring and Response Services, Electronic Security Solutions, Fleet management solutions, Secure Journey Management, Event Security, Deposita Solution, Risk 360 Solutions, Risk Management.
G4S provides security services to a plethora of customers, from Public Sector and Private Sector, ranging from Diplomatic Missions, NGOs, Oil and Gas, Government Organizations, Financial Institutions, Manufacturing, Logistics and Automotive that require both ongoing innovation and specialized security services.
As security professionals who work in partnership to keep consumers, business and organizations safe, our aim is to become the preferred supplier of security services to the Ugandan market. This means providing our customers with peace of mind by utilizing high quality integrated security solutions.
Our Group Values
We are AGILE, RELIABLE AND INNOVATIVE, Our CARING Culture puts PEOPLE and SAFETY FIRST, We deliver through TEAMWORK and always act with INTEGRITY.